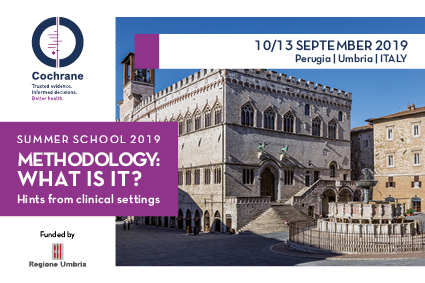 The Cochrane Neurological Sciences Field is organizing a four-day course targeted to young physicians and trainees interested in cerebrovascular diseases. The aim of the course is to present, discuss and appraise key methodological issues encountered in clinical practice with examples in vascular neurology. 
Read the program | Online Application
---
OBJECTIVES 
In this four-day intermediate level course participants will learn to what extent and how methodology sustains clinical practice and the decisions which can be made accordingly, using cerebrovascular diseases as an example. 
Discussions on EBM, elements of statistics, and what is needed to appraise evidence will be conducted, so that participants will be encouraged to promote clinical EBM research and systematic reviews in their professional activity to manage uncertainty. 

After successful completion of the course, participants will bridge the research-practice gap in a context of evidence based education through:
1. knowing when and how to screen for particular conditions; 
2. having an understanding of how to appraise the evidence from trials and systematic reviews; 
3. knowing how to read a Cochrane Summary of Findings Table; 
4. understanding useful elements about statistics;
5. knowing the current debate on the meaning and role of EBM
---
TARGET AUDIENCE 
The course is directed to practitioners, neurologists, healthcare workers, researchers, guideline developers and policy makers, who wish to get involved and learn more about Cochrane methodology and stroke medicine.
---
TOPICS 
 

Screening(s) and Risk Scores

 

 

Trials, Systematic reviews, Summary of Findings Tables, Outcome measures

 

EBM:

 

meaning and role

 

 

Fake News

 

Statistics in practice
---
COURSE STYLE 
The residential course will offer accommodations and meals, and the small number of participants (max 30) will offer a stage for interactive plenary sessions and ample room for discussion. There will be small group exercises. Participants will be asked to do some preparatory work before the course and some self-study during the course. 
Participants are asked to bring their own laptop.
The location and the friendly atmosphere will facilitate interaction between students and teachers to improve and foster engagement.  
---
SPEAKERS  
Eivind Berge | Department of Internal Medicine, Oslo University Hospital, Oslo, Norway 
Miriam Brazzelli | Health Services Research Unit, University of Aberdeen, UK
Teresa Anna Cantisani Director Cochrane Neurological Sciences Field. Director Neurophsiopathology Department, Perugia Hospital, Italy
Maria Grazia Celani | Clinical Research Committee, Cochrane Neurological Sciences Field. Neurophsiopathology Department, Perugia Hospital, Italy
Alfonso Ciccone | Cochrane Neurological Sciences Field. Director Neurology Department, Carlo Poma Hospital Mantova, Italy
Roberto D'Amico | Director Italian Cochrane Center. Department of Diagnostic Medicine, Public Health, University of Modena and Reggio Emilia, Italy
Paolo Eusebi | Statistician - Health Authority Umbria Region, Perugia, Italy  
Gian Franco Gensini | Director, Guide-line Project, Tuscany Region, Italy
Peter Langhorne | Co-ordinating editor Cochrane Stroke Group, Professor of Stroke Care, Institute of Cardiovascular & Medical Sciences, Glasgow, UK 
Silvia Minozzi | Methods editor and quality advisor, Cochrane Drugs and Alcohol Group, Rome, Italy
Cristina Motto | Neurologia e stroke, Niguarda Hospital, Milan, Italy
Gianni Tognoni | Director Consortium "Mario Negri Sud". Mario Negri Institute, Milan, Italy
Stefano Ricci | Director Italian Stroke Organization - Study Center. Editor, Cochrane Stroke Group, Perugia, Italy
Gabriël Rinkel | Director of Neurology, University Medical Center Utrecht, The Netherlands
Peter Sandercock | Emeritus Professor of Medical Neurology, University of Edinburgh, UK
---
DATES
Perugia, 10-13 September 2019 
VENUE
Deco Hotel 
Via del Pastificio, 8
Ponte San Giovanni, Perugia (Italy)
+39 075 5990950
info@decohotel.it 
LANGUAGE 
English 
---